Nigel Fryatt – editor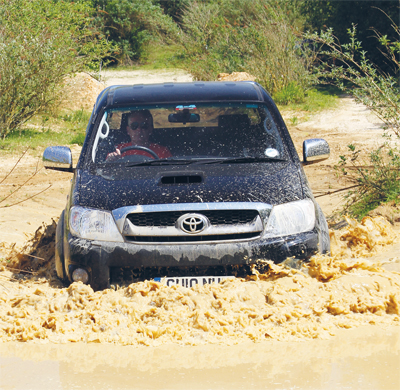 Has it got something to do with when we were kids and liked to splash around in puddles, that when we get bigger, there's still an attraction but where we once had brightly coloured wellies, we now have a 4×4 pick-up?
Taking my now Cooper tyre-shod Hilux down to John Morgan's excellent Slindon Safari site, saw me splashing about in the puddles, a lot! Now, we all know what the rules are about water and 4x4s, although there wasn't enough deep water to need to check the depth before ploughing through, trust us we were being sensible – even when encouraged to show a little more vigour by the photographer. Despite care, an annoying minor problem was to occur, however.
Toyota Hilux HL3

Spec: HL3 D-4D
Mileage: 13,989
MPG: 32/33
Recent costs: Fitting new numberplate £11
Arrived: October 2011

You can read more about this Toyota in the September 2012 issue of 4×4 Magazine – available here