Nigel Fryatt – editor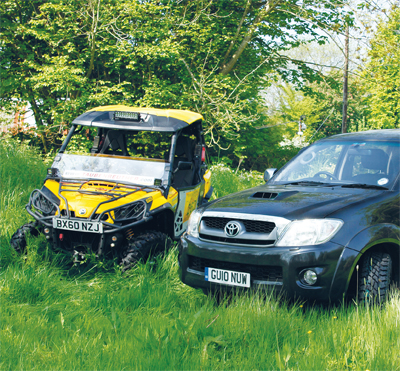 Couple of firsts this month; a fully loaded load bed, and serious tyres fitted at last. The new Cooper Discoverer S/T Maxx tyres arrived and so it was time to load them up with the 'pepper pot' wheels to get them fitted.
The Cooper Maxx tyres are M+S rated and available in sizes from 16 to 18inch, which was a problem in that the OE wheels for the Hilux are 15inch – and small and weedy they look too. After some investigation it seems that I can use a 16x8inch steel wheel with a -7mm offset, which is said to give a better fit than a zero offset. That then means that Cooper 245/75R16 tyres would fit, so everything was going to be OK, wasn't it?
Toyota Hilux HL3

Spec: HL3 D-4D
Mileage: 13,989
MPG: 32/33
Recent costs: Tyre fitting and balancing
Arrived: October 2011

You can read more about this Toyota in the August 2012 issue of 4×4 Magazine – available here