Nigel Fryatt – editor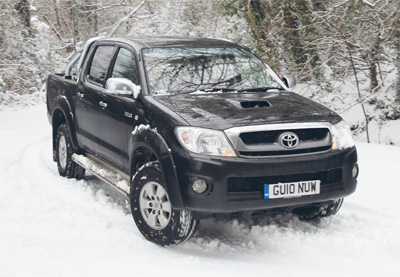 Regular readers will know that in the previous issue I explained the horror story of having the Hilux's catalytic convertor cut from the truck, while I slept peacefully, unaware of what was happening on my drive! The actions of these morons cost over £1000 to replace, and I have been concerned since then that they would be back to try again. There are now security plans afoot, but you still worry.
It all seemed more secure, however, when in the early part of February most of southern England was covered in at least six inches of snow, The temperature at night on our drive had dropped as low as -8degC, so perhaps we are safe for now.
The snow did highlight one thing, however, I need a load bed cover of some kind! When Sue and I dug out our 4x4s on Sunday morning, we actually had to dig out the pick-up's load bed…. Well, I say we, Sue had to do it as I was busy taking photographs!
Toyota Hilux
Spec: HL3 D-4D
Mileage: 11,240
MPG: 32/33
Recent costs: none
Arrived: October 2011

You can read more about this Toyota in the April 2012 issue of 4×4 Magazine – available here