Nigel Fryatt – editor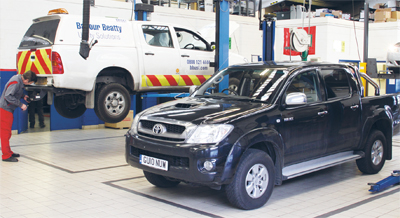 Well, it's been my first full month owning this Toyota Hilux, and there's no hesitation in saying that I'm lovin' it! Over the years I have driven numerous pick-up trucks on test launches and off-road events, but it's all very different when you live with one. In some of the narrow country lanes around Surrey, it pays to remember that it's a big truck and certainly reverse parallel parking is something of a hoot. Reversing into spaces, small hatchbacks seem to disappear underneath the load bed at times, which has led to the driver having to jump out to check how much room is left and ensure that the little Peugeot that was there a minute ago, hasn't been impaled on the tow hook! Despite its size, the Toyota is light and easy to handle and manoeuvre, it's just necessary to use some caution.
One other point, that is more difficult to get used to, is that filling up a full tank of diesel means £100 can leave my wallet. The plan has to be in the future to fill up when the tank is only half empty. Of course that doesn't actually mean there's a saving, but it will feel like it. No matter how it's driven – whether it's poodling around town, or a quick motorway thrash, the Hilux's on-board computer keeps saying 32/33mpg, which is reasonable. But to be honest, it hasn't really done enough mileage to get an accurate consumption figure, but that will come over time. At present, the truck's been sitting on the drive for most of the last month due to the crazy magazine schedules that happen around the Christmas period. How can a mere two days holiday cause such a problem with printers' schedules?.
Toyota Hilux
Spec: HL3 D-4D
Mileage: 9522
MPG: 32/33
Recent costs: Shiny chrome roll bar
Arrived: October 2011

You can read more about this Toyota in the February 2012 issue of 4×4 Magazine. Buy it here