Nigel Fryatt – editor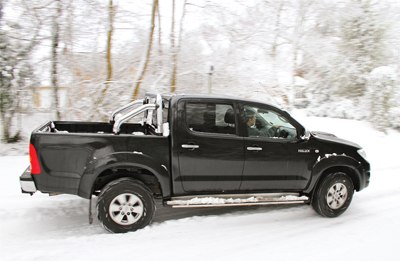 The return of the snow to the wilds of Surrey saw me enjoying the Hilux. I live on a hill and any decent download of snow will see people struggling to get around. You cannot deny that it's fun actually going for a drive when you really don't need to! Checking if our elderly neighbours need anything, we sometimes encourage them to let us go and buy them an extra loaf of bread 'just in case' so we can have a specific mission to brave the elements!
Over the months I have been looking to change the tyres on the Hilux and it was disappointing, after experiencing just how good they were, to find that the new Pirelli winter tyres aren't available in the Toyota's 15inch wheel size. Agreed that a company cannot make every size possible, but surely this is a market they are missing. I'd certainly have a set, that's for sure. Failing that I'd been thinking about some Cooper ATs, or maybe General Grabber ATs… All this is because the Bridgestone Duellers on the Hilux seem to be particularly weak on wet roads, especially with an empty load bed. It was pleasing therefore, to find that when the road is covered with snow, the Hilux copes and driven correctly, the Bridgestones give enough grip to happily potter about. I wouldn't want to do anything too difficult with them, and braking has to be planned in advance, but they are OK for the neighbourly bread run.
Toyota Hilux HL3

Spec: HL3 D-4D
Mileage: 18,039
MPG: 32/33
Recent costs: Loaf of bread for the neighbours!
Arrived: October 2011

You can read more about this Toyota in the April 2013 issue of 4×4 Magazine – available here