Nigel Fryatt – editor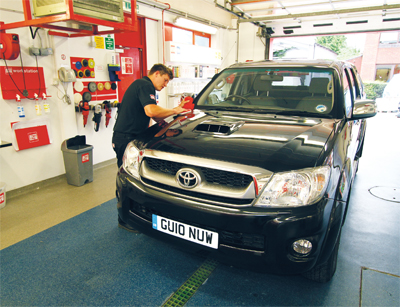 For anyone regularly enjoying off-roading, getting scratches on the bodywork goes with the territory. At least with the off-road, greenlane, territory. For those of us that use the 4×4 for a multitude of uses – daily driver, family saloon, and occasional mud-plugger – it's a little more difficult. While you accept that there might be the odd scratch, you want the vehicle to look good.
Of course, as regular readers will know, scratching the bodywork extensively while it is sitting on your drive is pretty dumb! And as I tried to explain last month, it was all thanks to the hosepipe ban.
To recap, having had a great day in a very muddy site, I left the truck looking particularly messy for a few days and then decided it had to be cleaned. With the hosepipe ban in force at the time, I decided to do it quickly with a few buckets of water and a car wash brush. By not changing the water regularly enough, and by rushing, I managed to rub the fine muddy particles into the paintwork, so it looked as though someone had attacked it with a Brillo pad! Doh…
Toyota Hilux HL3

Spec: HL3 D-4D
Mileage: 14,945
MPG: 32/33
Recent costs: Lots of Autoglym cleaning and prep products!
Arrived: October 2011

You can read more about this Toyota in the November 2012 issue of 4×4 Magazine – available here