Hils Everitt – Editor at Large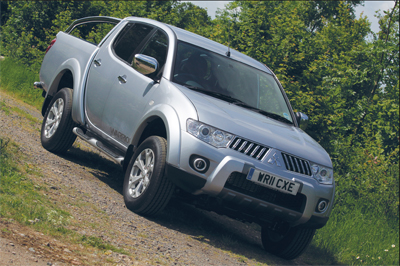 It's always good to have a pick-up truck on the 4×4 fleet. The pick-up is a classic example of the 4×4 genre, with all the current models still offering us our beloved four-wheel-drive low range and good quality off-roading ability combined with wonderful practicality for anyone who needs a vehicle to earn its keep.
Our previous long-term truck was the double cab Isuzu Rodeo. At the lower end of the truck price range, the Rodeo offers good, solid, honest, no-nonsense performance, even if it is a little rough around the edges with its somewhat uninspiring interior and rather bulky exterior looks. But now, our new long-term, double cab pick-up has taken us from that boxy Isuzu at one end of the range to the brashy, chrome-adorned L200, a vehicle that caused a real stir when it first appeared on the market in 2006.
The previous incarnation of the L200 was a typical, boxy pick-up, so the revamped version was a real eye-opener. Many thought Mitsubishi had lost the plot. Not so. Sales went through the roof and the L200 gave birth to the now booming true 'lifestyle' pick-up market. The styling, considered outlandish at the time, really shook up the market and no one has ever really followed in its wake. The latest addition to the sector, the VW Amarok, does have a rounded feel to it but is very Tiguan/Touareg-like and is no trend setter, while the all-new Ford Ranger has that appealing contoured shape, with the sculpted wheelarches that make pick-up trucks look like SUVs, but neither has fully adopted the shock-tactics of the Mitsubishi design team.
Mitsubishi L200
Spec: 2.5 Di-D Warrior Leather Auto
Mileage: 1625
MPG: 30
Recent costs: None
Arrived: June 2011
You can read more about this Mitsubishi in the August 2011 issue of 4×4 Magazine.