Hils Everitt – Editor at Large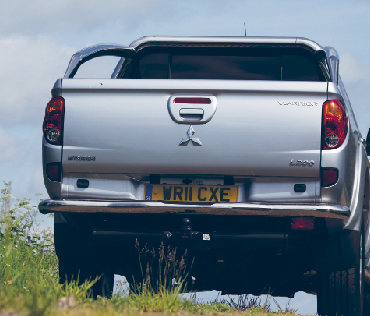 The recent heavy rainfall may be placating the poor farmers who were seriously worried about their crops not that long ago, but it has not been good for our long-term L200 Warrior. As the loadbed is open we can't have a truck top as it is fitted with stainless steel sports bars and loadbed liner. There is an option for sport bars with retractable tonneau cover at £1479, but that is only available without the liner. I have to keep the L200 outside so that means that the loadbed gets quite filled up with water with all the torrential rain that has hit Kent recently.
The water does drain out with a bit of a tidal wave when you pull away through the outlets in the tailgate. I just have to make sure there's nobody standing in close proximity when I do so otherwise they'll get rather wet.
I said in our first report on the truck that I had grown to like its unique styling, which rather scared me when it was launched. It was interesting to compare it exactly with the previous model when I went to Farnborough Airport recently. In the car park was an L200 with a trucktop and sporting the two-tone bodywork that was all the rage back in the day.
Mitsubishi L200
Spec: 2.5 Di-D Warrior Leather Auto··
Mileage: 2250
MPG: 30
Recent costs: Diesel
Arrived: June 2011
You can read more about this Mitsubishi in the September 2011 issue of 4×4 Magazine.