Hils Everitt – Editor at Large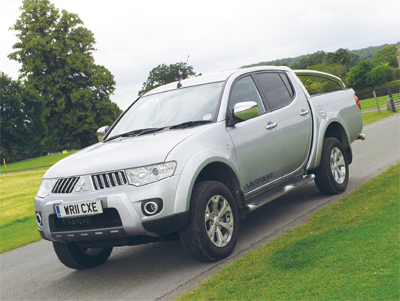 Since our last instalment the L200 has been used as a removal 'van' and general runabout while I took some time out from 'at larging' to spend some quality time in the Swiss mountains.
Before I headed off to the airport, by train, our designer Paul picked up the pick-up (!) one afternoon to move his girlfriend's belongings and then dropped it off to our editor Nigel so that he could use it to get out and about. The initial intention was for Nigel to use it for a camping trip in East Anglia, but, as we've said before, without any kind of loadbed cover, the Mitsubishi loses its practicality as a serious load lugger for any kind of extended trip that requires lots of equipment. Luckily, Paul had dry weather
for the move.
If the weather is OK and you have some cargo strapping to secure your possessions via the six lashing rings to stop them rolling around and, more importantly, being lifted out of the back by an opportunist thief (highly unlikely, but in these days of civil disquiet you never know…) then there is a reasonably good area to store kit.
Mitsubishi L200
Spec: 2.5 Di-D Warrior Leather Auto··
Mileage: 4342
MPG: 31
Recent costs: None
Arrived: June 2011
You can read more about this Mitsubishi in the October 2011 issue of 4×4 Magazine. Buy it here.