John-Joe Vollans – Golf/Classic Car Buyer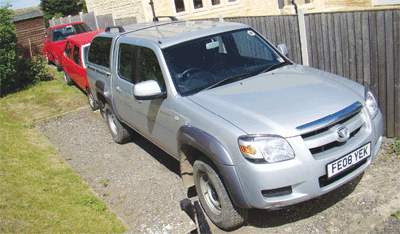 I need to come clean straight away: my four-wheel-drive experience normally revolves around performance classic saloons like the Audi Quattro, Lancia Delta etc… I have, however, had the pleasure of attending a press launch for the Mitsubishi Outlander (I know it's an SUV, not a 'real' offroader) exploring the vehicle's capabilities in the mucky stuff, and I spent a day off-road with Kubota's RTV900. All that was required from the BT-50 on this occasion was to hitch up a trailer and collect a 1982 Mk1 VW Golf from Kent and deliver it safely to my home in Stamford, Lincolnshire.
The first impression for me on collecting the BT-50 from our head office was its sheer size. Obviously being a double cab pick-up and incorporating an expansive rear enclosed deck, the BT needs some substantial proportions, but, nevertheless, when you spend your days writing about, and driving Morris Minors, a vehicle with an overall length of nearly five metres does make an impression!
Once on the move, I felt quite at home as the BT-50 does feel easy to drive and has some very deliberate car-like characteristics. Power is adequate when unlaiden, but is not anything to get excited about. What is a little unnerving is the twitchiness of that light rear end when in RWD mode, especially when pulling away on a wet surface.
Fortunately, the car I was collecting was located in Kent, just a stone's throw from Kelsey HQ. The tricky bit was acclimatising myself to the Mazda's gargantuan dimensions while negotiating Kent's tight, twisty rural lanes. Once the car was loaded onto the trailer and hitched up, I pulled off with a slight sense of trepidation. I needn't have worried, however, as the BT-50 has plenty of pulling power and was more than capable of tugging a 750kg Golf.
The cabin on this Mazda is actually surprisingly comfortable and as it was a hot day, the aircon was a blessing, especially after building up a sweat securing the car with the ratchet straps. On a long run this relatively cheap pick-up is actually a very nice place to be, it's quiet, the seats provide support without being stiff and you emerge from the trip without the slightest hint of backache.
There are, of course, some downsides, namely the engine's lack of luster. Yes, okay, the 2.5-litre is the smaller of the two engine choices (there is a larger 3.0-litre range-topping option) but the 141bhp from this engine does mean you notice a steep hill when towing.
In addition, the manual gearbox shows up its limitations in a truck of this size while towing, you do notice the need to swap cogs frequently.
It's hard to be too critical of the BT- 50, however, as it did the task asked of it faultlessly and, apart from a little confusion swapping to four-wheel drive via the separate gear knob, when the extra traction was needed (I live down a farm track), it was easy and comfortable to use. If I were to try and drag a classic car out of a barn at the bottom of a muddy field, however, I think a Land Rover may be the better option…
SPECS
Model: BT-50 4×4
Spec: Double Cab TS 2.5 TdCi
Mileage: 34,755
MPG: 29
Recent costs: Dartford crossing and plenty of diesel!
Arrived: Nov 2008