Robert Pepper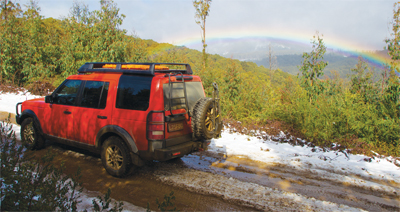 This month has been a rather typical month for the Discovery – a 4×4 trip or two, the usual mundane school runs, shopping and personal transport duties. We went for a snow run after keeping a close eye on the snow reports, which promised much so we dropped everything and bundled into the orange beast, aiming to get at least 1100m above sea level. In good years, snow is found from 800m upwards and most seasons you can generally run into it from around 1000m. But this year it was slim pickings, as the photographs show.
The D3 does this sort of medium trip very well, as the drive to the snow mountains is around two hours and includes some very twisty and often wet tarmac, then off-road onto dirt tracks that are relatively high speed but still require clearance and traction. So all was good, except one of the D3's major design faults and that is the park brake. For off-roaders it is the most troublesome part of the car, bar none, and that is because it is prone to clogging with mud or sometimes dust and dirt. Given the Discovery was developed in England, land of the long muddy green lane, it's a bizarre design and even worse, it's been carried over into the D4 when it should have been carried over to the rubbish bin. On this particular trip the activator light just lit up over corrugations, not activating the brake, but irritating. Yet another clean is in order. Why, oh why did they make it this way?
It's amazing how Land Rover can build a car in many way so amazing and yet in others so ridiculous. To balance the ledger, they have the traction control system down pat. It's not the best I've seen – Toyota's superb LCV8 takes that honour – but what is done right is the rear locking differential, the e-diff. This is actually more of a clutch that acts like a cross-axle locker, but what I like about it is that it works with the traction control system. Compare for example the Mitsubishi Shogun, L200 and Ford Ranger – these vehicles have optional rear lockers, the conventional mechanical sort, but when these are activated the traction control is deactivated leaving the front axle doing not very much to help. On an intermediate training course I demonstrated this to good effect on a large rock using a Shogun – with the locker engaged the car crawled very slowly up the rock, two wheels barely touching the ground, but then the rear tyres ran out of grip and both rears spun. Switching the locker off and back into traction control allowed the car to move again as the front axle started to help.
SPEC
Make: Discovery 3
Mileage: 69,732
MPG: 23.3
Recent costs: Nil
Arrived: March 2012

You can read more about this Discovery in the January 2013 issue of 4×4 Magazine – available here