Louise Limb – contributor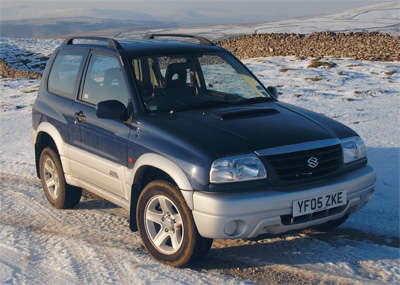 It's been an unexpectedly slithery couple of months since my last joyful report as I looked forward to adequate road holding and relatively stress free cornering after investing in new Bridgestone tyres. While I do little serious off-roading in the Grand Vitara – it is after all my only car, so it must take me reliably from A-B at all times, I do drive an awful lot of winding country lanes, usually slick with manure filled tractor tracks or strewn with windblown vegetation. I was looking forward to tackling these hazards with gusto, confident I could stop quickly after the work on my off side brake to even up the performance of both front brakes and with the reassurance of brand new rubber between me and the road.
I know I'm a bit of a scaredy cat but the first fright came on a downhill stretch of frosty road heading towards Skipton. I'd been doing between 20 and 25 along the white hoar frost, thinking I'd be fine when the road went to a one in 10 and applied my brakes gently. The ABS kicked in, horrible graunching noises ensued, the wheels locked and I hurtled into a downhill slide.
Suzuki Grand Vitara
Spec: 3dr SE 2.0L Tdi
Mileage: 60,550
MPG: 35–40ish
Recent costs: £65 tanks of diesel
Arrived: October 2008

You can read more about this Suzuki in the April 2012 issue of 4×4 Magazine – available here