Louise Limb – contributor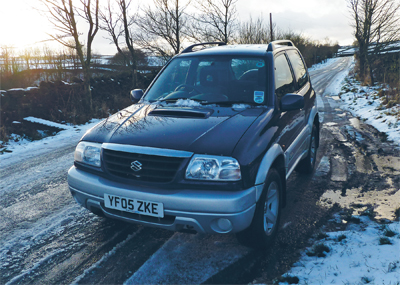 Don't you think you ought to put it in four-wheel drive' my husband suggested weakly, as we slewed around the moor top road in the gloom, an early fall of snow having settled upon earlier slush, the two layers of road gunge freezing fast as I picked my way along. 'I am in four-wheel drive', I snapped back, hoping quietly we'd make it gently through the downward sloping junction without hitting anyone. I'd forgotten about those pesky back tyres and the snow had caught me out.
A further few miles slithering behind the Hebden Bridge bound bus in a blizzard and that was decision made; next day I'd go and order new tyres. If the Bridgestone Duelers had lasted over 60,000 miles then I'd have some more of the same again thank you. I'd been lucky in the past 40 odd thousand that I hadn't chanced upon a nail or two and now I was forking out near enough £140 for one tyre and a shift around of the others I'd like to hope I'd avoid a few more.
Suzuki Grand Vitara
Spec: 3dr SE 2.0L Tdi
Mileage: 60,550 – it's now just over three years since I bought the car, with approx 16,750 miles on the clock and finally, yes! I've replaced the back tyres.
MPG: 35–40ish
Recent costs: One new back tyre (Bridgestone Dueler) £138
Arrived: October 2008

You can read more about this Suzuki in the February 2012 issue of 4×4 Magazine – available here