Nigel Fryatt – editor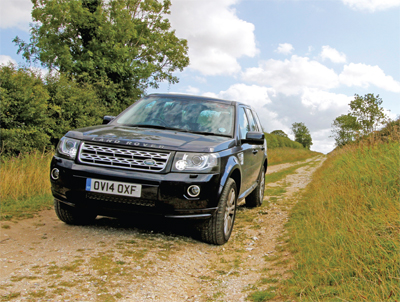 There it was, ahead of us. As the Freelander eased forward, at a relaxed snail-paced crawl, up the slight incline it was obvious where we were as ahead was the famous Big Sky that you find in Norfolk. There was a brisk northerly wind (something else you get in this part of Norfolk), but the sky was a pale blue, the sun was shining and we were driving one of the oldest known transport routes in the UK. It struck me then, that this is what 4×4 ownership was all about. In this weather, the route was simple, the Freelander's wheels occasionally scrabbling on the loose chalk and flint surface in some of the ruts, but that wasn't the point. It wasn't technical off-roading, it was getting-away-from-it-all off-roading along a section of Peddars Way, in north Norfolk and all was well with the world.
Peddars Way is an intriguing route. Check out the Ordnance Survey map and it declares it is a Roman road – and for sure a lot of its 46 miles is arrow straight. The name is also believed to be from the Latin 'pedester' meaning 'on foot', but there are some historians who believe the actual route is much older than that. Officially, it starts at Knettishall Hall in Suffolk, near Thetford and ends right at the north Norfolk coast near the coastal villages of Brancaster and Brancaster Staithe, close to the site of the Roman fort called Brandodvnvm, where it joins the Norfolk Coastal Path. The section we were driving has probably changed little in the hundreds of years that have passed, save for the thrum of the massive farm vehicles working on the cultivated fields either side of the track. Sadly, however, for off-road enthusiasts, much has changed for Peddars Way.
We first drove the route over a decade ago – for a feature in this magazine in the Secret Britain series. There were a few sections we couldn't drive back then, but from Thetford up the coast we enjoyed a relaxing journey through history, stopping to look at the many weird tumuli along the way and wondering just who was buried there. It seems, however, that there is very little left open to vehicular traffic – thanks to the arrogant stupidity of thoughtless prats who think off-road driving is some kind of rights of passage challenge to show how macho you are. Vehicles have damaged the route and much of it is only open to walkers and pedal cyclists. One source of information that we found useful was at the National Trail website, but that shows just how much has been 'lost' to even sensible off-roaders. For more details, check out: www.nationaltrail.co.uk/sites/default/files/pw_vehicle_access_0.pdf
SPEC
Spec: SD4 Metropolis
Mileage: 4849
MPG: 31.8
Recent Costs: None
Arrived: July 2014

You can read more about this story in the November 2014 issue of 4×4 Magazine – available here