Phil Weeden – editorial director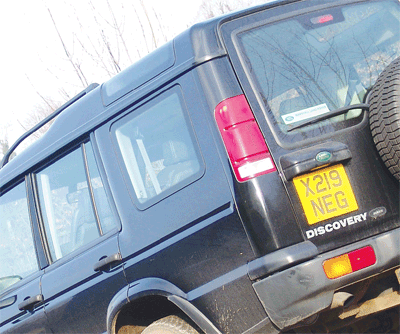 We introduced the Discovery to the long-term fleet a few issues ago. So, just to recap, we're big fans of the Discovery and we ran a Series 1 in Land Rover World for a couple of years, so when discussing potential projects for sister publication Car Mechanics, the Td5 model seemed like the way to go. They've come down in price and yet they're actually a reasonable workhorse for day-to-day stuff, allied to legendary Land Rover off-roading ability. The plan is to get it mechanically sorted, at which point we hand the vehicle over to our mates at Land Rover World where we can start playing in the mud.
When we went shopping for a Discovery, it was during the snowy spell we had in February, so 4x4s were selling fast and at firm prices. At our local auction house, BCA in Peterborough, even ratty looking off-roaders were shifting, so imagine our trepidation when the black Td5 you see in the photos rolled through the halls. We had to get this one as press deadlines were looming – not exactly the ideal buying conditions.
Fortunately, the hammer fell with our bid the last called, and we bagged it for just a tickle over four grand. That's firm but fair money for a base model example. It doesn't have the seven-seat option, no air con and very little in the way of creature comforts. But it has a tow bar, 89,000 miles on the clock and looks exceptionally straight, bar a broken bit of lower front bumper. And it got better because it drives beautifully. Well, as beautifully as a 138bhp two-tonne beast can drive on the road.
Once back at base, after it had the Vortex exhaust fitted (April issue), the first step was to give it a thorough service as the maintenance record showed it hadn't seen a spanner in 20,000 miles. Being a lowly spec meant it wasn't cursed with the Active Cornering Enhancement air suspension system that was offered at the time. The conventional coils and shocks, however, were looking a little tired, so we've had some beefier Bilsteins fitted and all the rubber bushes were replaced by polyurethane items. It's certainly tightened things up on the road, but we don't know yet what effect it will have on the Discovery's offroad performance.
SPECS
Model: Land Rover Discovery
Spec: Series II Td5
Mileage: 89,554
MPG: 28.9
Recent costs: £4300 for the vehicle (incl buyer's premium); £278.30 Bilstein shock absorber kit; £200 Polybush kit; service kit from Rimmers £63 (excl fluids) plus £360 labour
Arrived: Feb '10