Ian Seabrook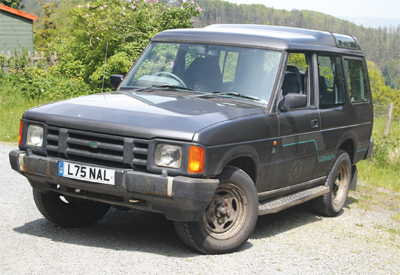 You may recall in the March 2013 issue of 4×4 that I waved goodbye to my Ford Maverick. I challenged myself to run a capable 4×4 on a shoestring budget, and I pretty much managed it for an enjoyable eight months. The Maverick was surprisingly good off-road, but didn't quite deliver what I wanted. The main problem is that I really wanted a Land Rover Discovery. I paid £500 for the Maverick and thought there was no way I could get a Discovery for that.
However, I boldly stated in March that I'd sell the Maverick in the winter, to maximise income, then see what I could buy in the spring. It required a level of patience that I'm not really used to, but I actually did it.
But why did I want a Discovery so badly? When I told Editor Fryatt of my plans, he laughed and said I'd only get a complete wreck. Glancing at the classifieds, I was forced to concede he might be right.
The answer stems from the fact that I had my school work experience at Lode Lane back in 1993. Scary to think that's over 20 years ago. I rather naughtily got the chance to drive a Discovery 200Tdi automatic prototype at the Eastnor Castle proving ground – most 15-year olds don't get that much excitement on work experience! From that moment on, I simply had to have a Discovery.
I found a likely candidate on Ebay. I spent literally hours trawling various websites, magazines and forums to find what I wanted. Depressingly, tidy Discoverys were making good money, even during the 'off' season. L75 NAL was listed in the parts section of Ebay, with a one-line description and only one poor photo. The opening bid was £500. I watched the listing, thought about it a lot, and eventually decided not to bid. No-one else did either. I now did that rare car-purchasing thing and had a good long think. The spec was spot on – a three-door 200 Tdi with the side graphics and standard steel wheels. My favourite of all Discoverys. I contacted the seller and received a bit more information and a few more pictures. There was accident damage to the rear quarter but it was described as pretty solid and running well. There was tax and test until September. I offered £450 and this was accepted.
A few days later, I headed to Northamptonshire from my rural Welsh home. This was a complicated trip involving hiring a car one way, catching a train, then a bus, then walking a bit. It still proved cheaper than getting a company to transport the car to my door.
I nervously approached the car, in the pouring rain and began to wonder what on earth I'd done. The seller was friendly though and a quick test drive left me confident it'd probably get me home. I handed over the money, signed the V5 and prepared for a 170-mile drive.
Naturally, this cheap-as-chips Disco is not perfect. Second gear synchromesh has disappeared, but thankfully I drive a lot of old classic cars and double-declutching allowed for crunch free changes. The transmission was a bit noisy at motorway speeds too. However, it pulled well, sat happily at 70mph and all of the electrical equipment seemed to work. I didn't really get a chance to have a proper look at it until the following week, due to other commitments and poor weather. I'm not disappointed. There's very little rust, which is quite remarkable.
I'm dead chuffed to have finally purchased my 'dream' car. I'm annoyed with myself for taking quite so long to do it – two decades in fact – but good things are worth waiting for, or so they say. A little mechanical and cosmetic improving is certainly called for, but further more serious long term plans depend on how it behaves between now and the MOT. Fingers crossed. We'll be letting you know.
SPECS
Spec: 200Tdi 3-door
Mileage: 179,254
MPG: 30
Costs: £450 purchase
Arrived: May 2013

Read more in the August issue of 4×4 Magazine. Buy it here