Ian Seabrook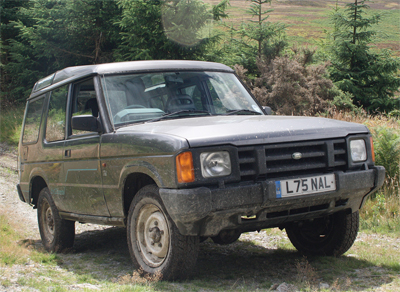 The mileage may not have crept up by much, but believe me, I've not been short of adventures. Twice in the space of a month, the Discovery has reminded me of the dangers of solo greenlaning, something I am prone to doing. The first time, I was in a popular area called Nant-y-Moch. It's pretty much on the doorstep and I know the lanes well, so there's little chance of getting stuck. But, there's always the danger of mechanical trauma.
As I discovered when after stopping to open a gate, the clutch went a bit funny. After closing the gate, the clutch went very funny indeed and stopped working. The pedal simply had no effect at all. It wasn't too much of a challenge to just select low third, start in gear and keep moving, though it was annoying every time I met a gate. Or had to select first for a steep descent. The poor starter motor took some punishment, as I had no option but to start the car in gear. That wasn't too bad in low 'box, but I was still 12 miles from home at the end of the lane and now had to do the same trick in high.
All credit to the Discovery, it did it and I set about perfecting clutchless gearchanges. I got home without too much bother. I bled the clutch system, but it didn't last long. The master cylinder was doing its thing, so it looked like the slave was at fault. Removing it ranks as one of the most unpleasant jobs I've undertaken on the Land Rover so far, as I soon ended up covered in oil and brake fluid. I opted to rebuild the slave and I think it was the right move. The bore was in good condition, so a £6 rebuild kit consisting of two rubber seals seemed a good investment. For just a few quid, I had a fully working vehicle again.
SPECS
Spec: 200Tdi 3-door
Mileage: 180,021
MPG: 28
Costs: £6 clutch slave rebuild kit, £20 handbrake cable
Arrived: May 2013

You can read more about this story in the December 2013 issue of 4×4 Magazine – available here