Howard Sherren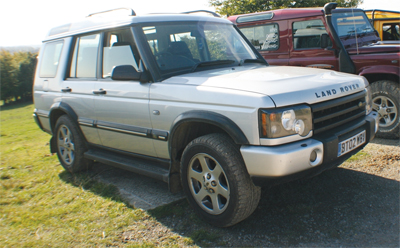 Last time I wrote I brought you the news that my LR Discovery 2 had been an interesting purchase and as many would expect, ownership hasn't been plain sailing.
Previously I found that a rear brake caliper was binding causing the disc to heat up dramatically, which I could have done without. On the plus side the Discovery axle is fairly mechanic friendly, with great access and simple to work on. After some searching I found a pair of calipers online for just £44 delivered from McDonald Land Rover. Although they will be nowhere the quality of genuine I thought I'd give them a go. When delivered two days later they appear to be just the job, fitted without a problem and in the end appeared to cure the problem of binding brakes, saving the life of my recent pads and discs. However whilst I had the axle apart I thought I'd take the time to service the axles too. There were signs of oil on the right-hand side so thought best to try new axle O-rings at 58p each, before jumping into new hubs which are some-what dear in comparison.
With the wheels off I also decided it appropriate to carry out an axle and transfer box oil change which I had been putting off for some time. Dropping the oil appeared to be the easy bit, with refilling taking a considerable amount of time. Once complete I felt satisfied that most of the running gear was good for a few months. In addition I fitted a pair of new rear axle ride height sensors at around £27 each as I had been suffering from some interesting ride levels which again was affordable and an easy fix, although it may still require setting up properly as it hasn't completely sorted this issue.
SPECS
Model: Land Rover Discovery 2
Spec: Td5
Mileage: 107,493
MPG: 33
Recent costs: Brake calipers £44, fuel pipe assembly £75
Arrived: Feb 2010

Read more in the July issue of 4×4 Magazine. Buy it here