Ian Seabrook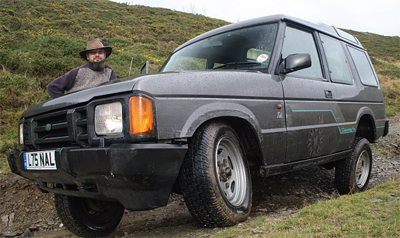 Not everything has gone to plan lately. I spent a week preparing the car and loading it up for a green lane session in North Yorkshire with some friends. Having not done very much laning at all outside Wales, I was looking forward to a change of scenery. Sadly, only three miles into the 160-mile journey there, it all went wrong. There was a clank, a bang and the front left wheel locked up. Fortunately, it was wet and the wheel was on a white line at the time, so I slowed down with rather less drama than I might have. Reversing freed off the wheel and I could limp home. I hurled everything into the Volkswagen Golf Mk2 I owned at the time and headed north, feeling somewhat depressed.
As it happens, I had a great time as a passenger, especially aboard a Vauxhall Frontera Sport – surprisingly capable if a bit lacking in ground clearance. I also got to drive a friend's Lada Niva – also very capable if somewhat agricultural.
On returning home, a failed wheel bearing was quickly identified as the problem with the Land Rover. With the help of a friend, we had this changed fairly swiftly. The inner face was bone dry and fell out in pieces as we removed the brake disc. I will be going around the other bearings to make sure they are not also dry.
The failed trip was all the more frustrating as I'd been rushing around refurbishing the wheels especially for the trip. While I was fettling the wheels, it had been rolling around on a set of Defender 110 steel wheels. I spent many hours rubbing down the correct Discovery steel wheels before coating them with brush-on zinc primer followed by two coats of aerosol wheel paint. I finished it off with two coats of lacquer to hopefully give some protection to the wheels.
SPECS
Spec: 200Tdi 3-door
Mileage: 180,613
MPG: 28
Costs: £20 wheel paint and primer, £20 wheel bearing
Arrived: May 2013

You can read more about this story in the January 2014 issue of 4×4 Magazine – available here