Wayne Mitchelson – contributor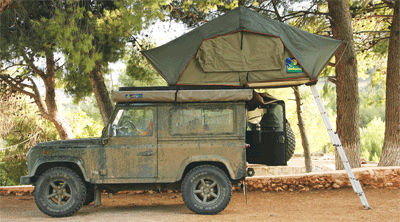 Probably the worst thing a bloke can do while messing about on eBay is to drink a bottle of wine. I did that very thing, and the next morning my worst fears woke me. I'm sure I bought a Defender last night? Through one blurred eye I turned on the Mac and to my horror, yes, in the bought items was one Woodcoat green Td5 90. Fortunately, the Defender was not a million miles away and I did actually need a vehicle. A couple of days later, there on my drive stood my most expensive eBay buy-it-now item ever – that £4.90 bottle of Shiraz cost me almost £8000.
In the sober light of day, the bodywork was battered and bruised, the interior looked shabby and torn and the All Terrains were the slick type. Not quite the exiting purchase I hoped for, but it had potential. I had owned a 90 several years earlier and loved it dearly, so I knew that, with a little effort and a few dollars more, I could turn this pig's ear into a smart, every day do-all Defender.
'The do-all Defender' was my mantra for this project, as I had 'tidied up' a Defender in the past and ended up with a restored trophy vehicle that was totally impractical for day-to-day life. This time I needed a vehicle that I could be proud of but not precious about. The 90 was immediately pushed into service and gradually became quite a smart truck. The bodywork was tidied up with three new doors and a wing skin. Those slick BFGs were replaced with a lovely new set of Cooper ST tyres and my shabby eBay buy-it-now purchase started to look a little smarter.
The interior of the 90 still looked dog-eared and showing its age, so was smartened up with a gorgeous set of Trek Overland canvas seat covers. A new steel cubby box was recovered to match the seats and a MUD centre console gave a more contemporary feel to the cabin. My daily driver and office was now a pleasure to step into. Going from a Tdi to the Td5 was an easy leap, fuel economy was no better or worse, but the 90 was easy to live with, and, to this day, has remained trouble-free.
After 150,000 miles down the road, the clutch gave up on me. Rescued by KTC 4×4 in Wrexham, the 90 was dismantled in a few hours and Chris tossed out from beneath the Defender a bare steel centre plate followed by the duel mass flywheel. This is never a cheap job, but the Wrexham boys got the heavy-duty job done in a fl ash. Not long after the clutch job, I decided to take the Defender to the Sahara for bit of an adventure. As KTC 4×4 did such a brilliant job before I gave the team the 90 for several days to prep it for its African trip. There are several items that can go wrong on the Td5 Defender, so I decided to replace those items before I left these shores. First, the engine injector loom was swapped, followed by the in-tank fuel pump and fuel regulator. The viscous fan looked worse for wear and so that was replaced also. New Genuine shock bushes and a full service gave me the peace of mind I needed to tackle the planned trip. The journey to the Sahara was faultless and the 90 behaved perfectly. Our hotel was the Howling Moon roof tent, and you would have read about it all in 4×4 Magazine last year!
The Td5 journey, so far, has been a happy one, with no major problems and it's been easy to live with. Now 180,000 miles down the dusty road later and I can't imagine what I would/should replace it with. So, for now the 90 remains a big part of the family. It takes us shopping, it takes us to the builder's yard and it took us to the Sahara. What other vehicle can do all that with such classless style and ability?
SPECS
Model: Land Rover
Spec: Defender 90 Td5
Mileage: 180,003
Costs: lots of prep work!
MPG: not a lot c19mpg
Arrived: June '06