Wayne Mitchelson – contributor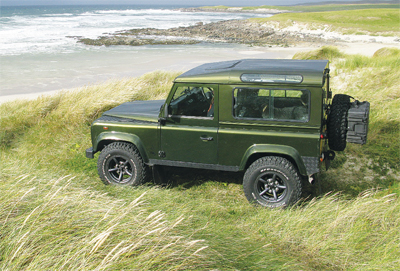 This is my fifth year of Td5 ownership. The drunken eBay purchase has proven to be the best vehicle I have ever owned. My pockets are not deep enough to run a car and a Land Rover, so the 90 needed to be the do-all vehicle. My weekly commute varies massively, the nature of being a freelance. The miles have been creeping up, however, and are now close to 200,000.
I have been a stickler for servicing the mechanicals on the truck and I think this has proved cheap insurance over the years. I had the transfer box replaced a few years ago and replaced it with a Discovery item, giving me a more comfortable cruising speed and much better fuel economy.
A heavy-duty tour of North Africa gave the Td5 something to think about. With careful preparation and replacing known problem parts before we left for the trip, the Land Rover performed perfectly and was trouble-free. More recently, the seats in the rear have been removed and sold to make the load area more user-friendly for carrying adventure equipment and Mountain bikes to Scotland and Wales on a regular basis.
SPEC
Model: Defender Td5 90
Mileage: 198,500
MPG: 19ish
Arrived: June 2006
You can read more about this Land Rover in the March 2011 issue of 4×4 Magazine