Matt Carson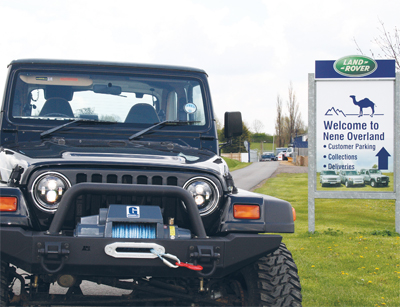 The stock headlamps on a Jeep Wrangler are just about good enough, in other words, OK but not great. So when I got a call offering a test of some LED headlights, I was intrigued. Sharp-eyed readers may have spotted these sort of lamps making their way onto bespoke, high end Land Rovers from the likes of Nene Overland and others, but they haven't hit the mainstream yet.
The lights in question are LED not HID, and are manufactured by JW Speaker. JW Speaker is probably the biggest light company you've never heard of and has been producing top quality lights for the military, mining and construction industry for many years. More recently, these lamps have filtered down to the aftermarket, where JW Speaker is already the bestselling LED lamp brand in Europe.
The lights are fully ECE approved for both high and low beam, as well as conforming to DOT standards, which means they are fully legal come MOT time, as unlike HID type headlamps, washing and levelling is not required. Originally developed for the military market, the light output is rated at about four times greater when compared to the original sealed beam.
SPEC
4.0 Sahara
Mileage: 50,000
MPG: 20
Recent costs: New headlights
Acquired: November '10

You can read more about this Jeep in the July 2012 issue of 4×4 Magazine – available here