Hils Everitt – editor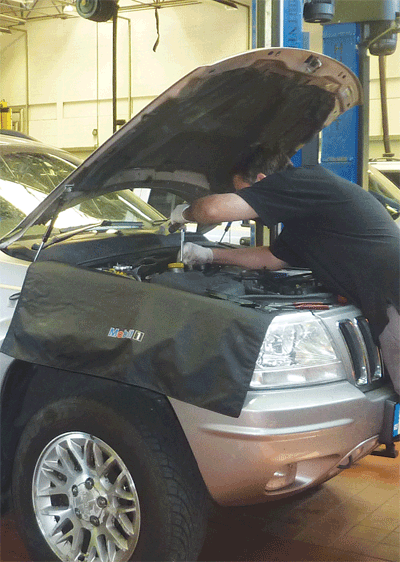 It's been a while since my Grand has graced the pages of the magazine. That's because it's been subject to a fair amount of repair, spending some quality time in the garage. The last instalment, regular readers may remember, was when I noticed that it was feeling particularly sluggish – ie felt as if it was not firing on all cylinders.
My mate, who owns a garage and does all my servicing etc, thought it could be the turbo – a look under the bonnet didn't reveal anything obviously untoward and his computer wasn't picking up any faults. Now a new turbo was something that I wanted to be sure about; after all, having recently shelled out a huge wad of cash for a recon Mercedes auto 'box last year I wasn't going to part with any more money lightly. I left it for a while and only used the Grand for short journeys as I was in full denial and just didn't want to come to terms with the idea of a new turbo!
But on one particular journey things just weren't right and I was now getting a sensation of fumes inside the Jeep and looking under the bonnet could finally see what the problem was.
Apart from a sick turbo the other thought that had crossed our minds were the injectors. And sure enough, the evidence was now there for all to see; there was a lot of fuel leakage around the injectors – it was a pretty dreadful mess in there. So I decided to do the right thing and drove off to Jeep dealer Whitehouse in Tonbridge. The guys welcomed us with open arms and took one look and confirmed the diagnosis – injectors 2 and 3 needed replacing – no need for sophisticated computers. They rolled up their sleeves, donned the scary rubber gloves, disconnected the fuel lines and removed the offending injectors. It took a couple of hours to clean it all up and fi t the new injectors, at £186.17 a shot – ouch.
The Grand is now cruising beautifully and I love it again, despite recent heavy expenditure – included insurance and six months' tax. There are plenty of minor cosmetic things that need doing, but they will have to wait a while…
SPECS
Model: Jeep Grand Cherokee
Spec: 2.7 CRD Unlimited
Mileage: 90,053
MPG: 28.8
Recent costs: £651.16 replacing two faulty injectors – includes two hours' labour and VAT; insurance renewal £480; six months' road tax £134.75
Arrived: Sept '06