Hils Everitt – Editor at Large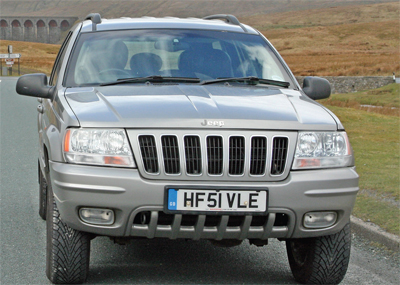 So, having put a deposit on my new 2009 Mineral Grey Grand Cherokee Overland I picked it up four days later, after a two-hour train journey and a large chunk of cash filtering out of the bank account. The dealership didn't seem too bothered that I didn't want to take up the finance offer; I got a pretty cheap bank loan instead, with a bit extra to sort out the garage doors – one needed replacing and the other garage just needed a door, full stop.
In fact, the garage and its intended new electric rolling doors were a big issue in the purchase of this particular Grand. The garage we keep the MX5 in was fine, of course, bags of room. In my old WJ, parking in our open garage was quite a precise operation, with just an inch or two to spare either side. But garaging the WK Grand could have been a real problem.
To start with there was the length. At 4750mm, compared to the WJ's 4605mm, it was touch-and-go whether the guys could fit the new garage doorframe on enough brick to allow the WK to fit. The WJ had a few inches to spare and sometimes I just let it stick out when I couldn't be bothered to park it precisely under cover – but there would be no such leeway with a rolling door fitted.
Spec: WK 3.0-litre
Mileage: 51,533
Recent costs: Mental energy sorting out measurements…
MPG: 30ish

You can read more about this story in the February 2014 issue of 4×4 Magazine – available here