Hils Everitt – Editor at Large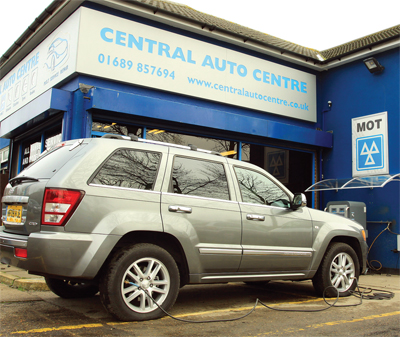 Cosmetics all sorted and the shiny side steps duly removed, it was time for my Grand to have its MOT. Time has flown by since I bought it six months ago and I expected it to pass with flying colours. As it was first registered in April 2009, this was only its second test.
So as usual at MOT time for whatever vehicle I have, I took it to my mate's garage Central Auto Centre in Green Street Green rather than make a round trip to the nearest Jeep dealer near Ashford in Kent, which is way too far away.
It did indeed pass with flying colours, after I was reminded to remove the large 'Media' sticker that I had left in the windscreen after covering a couple of features on the Wales Rally GB in November. I rather liked that sticker, but it had to go as any MOT inspector would require its removal, it didn't impede vision at all, but them's the rules!
It was pretty chilly while I snapped away in the service bay area and when all was done and dusted my mate said: "While you're here do you want some nitrogen inflation for your tyres?" Well, at £1.67 a corner I thought it would be rude not to –especially at this time of year. With temperatures now finally sliding below 7°C amid all the rain and wind, that's when tyre performance is compromised. Although we haven't had any snow down south, so far, below that temperature the rubber hardens which affects grip and braking performance, as you will have read in our very important winter driving features over the years.
Spec: WK 3.0-litre
Mileage: 52,800
Recent costs: MOT and nitrogen inflated tyres – £1.67 each!
MPG: 30ish

You can read more about this story in the May 2014 issue of 4×4 Magazine – available here