Hils Everitt – Editor at Large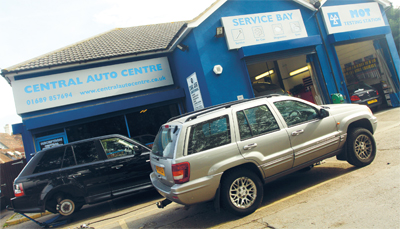 As mentioned last month I was planning to get my Grand's front brake pads replaced. The MOT in February registered 80 per cent wear, although the rears were a way healthier 40 per cent. Since then the brakes have gradually started to feel a bit lumpy and six months on it was time to bite the bullet and replace them.
I booked the Grand into my mate's garage, Central Auto Centre in Green Street Green, and didn't bother to ask what the cost would be as it was something that needed doing and not an issue to think; 'ooh that much? I'll put it off for a while'.
At 08.30am I arrived and the guys removed my rather tarnished alloys and removed the pads. The lovely young man in charge of my Jeep for the morning had a good look around and then sucked his teeth a bit and called over the manager who came and took a lingering look. "Well, Hils, we can replace the pads, but your disc on this nearside looks very corroded and I reckon the other side will be similar. Now, rather than going to the huge expense of new discs, we'll use our clever machine that does a sort of recondition job," he said with a smile.
Jeep Grand Cherokee
Spec: 2.7CRD Limited
Mileage: 93,350
MPG: 32/22
Recent costs: None this time as no point replacing pads with corroded discs!
Arrived: May 2012


You can read more about this Jeep in the November 2012 issue of 4×4 Magazine – available here