Hils Everitt – Editor at Large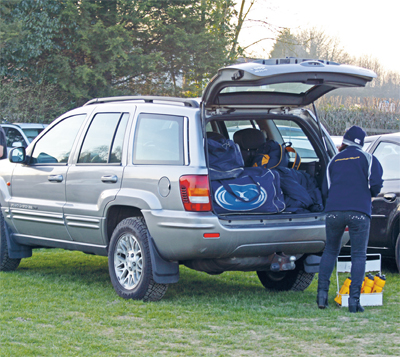 This month has marked a rather sad day for me and my Jeep. One of the reasons I bought it in the first place five years ago, apart from the fact that it would be far more economical than my outgoing 3.2-litre V6 Frontera Estate – and that I'd always wanted a WJ since Jeep first introduced the diesel and auto 'box mating in 1999(!) – was for its payload and cargo-carrying capacity.
Apart from the fact that holidays often mean lots of camping, backpacking, mountain biking or rock climbing kit or skiing gear needing to be ferried around, one of my off 4×4 duty jobs is the manager of my local rugby club's 1st XV. And that means lugging a huge kit bag, tackle shields, training balls, water bottles, water canisters, my own kit bag and various other bits and pieces, plus the physio bench on occasion, to all the away games.
Other friends were driving down that night and we knew the snow was on its way, so I insisted on giving them a lift. My mate was thinking of driving down in her Audi convertible; although four-wheel drive I said I didn't think it was sensible for her to drive into the depths of the country when several inches was expected. We would be trying to get home next morning via winding country lanes that would not be visited by any council gritters!
Jeep Grand Cherokee
Spec: 2.7CRD Limited
Mileage: 93,100
MPG: 32/22
Recent costs: A full deluxe valet £25-30
Arrived: September 2006


You can read more about this Jeep in the June 2012 issue of 4×4 Magazine – available here