Hils Everitt – Editor at Large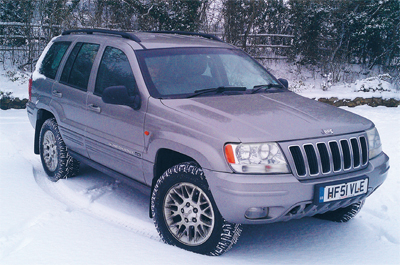 After two severe winters, the South East escaped relatively unscathed this time. Here on my Greensand ridge we had a light dusting one day, which didn't last and we thought that we may have escaped after all the warnings. The weather was mild, and then we hit a really cold snap, but still no precipitation.
Temperatures dropped to well below freezing and I was glad that I had my General Grabber ATs holding up the silver machine's four corners. The feeling of reassurance you get with a decent set of tyres in poor conditions is priceless. When the heavy snow did finally arrive on Saturday night – as predicted – in early February while I was having dinner at a friend's house in the countryside I was very glad of my 'GGs'.
Other friends were driving down that night and we knew the snow was on its way, so I insisted on giving them a lift. My mate was thinking of driving down in her Audi convertible; although four-wheel drive I said I didn't think it was sensible for her to drive into the depths of the country when several inches was expected. We would be trying to get home next morning via winding country lanes that would not be visited by any council gritters!
Jeep Grand Cherokee
Spec: 2.7CRD Limited
Mileage: 93,100
MPG: 32/22
Recent costs: None
Arrived: September 2006


You can read more about this Jeep in the May 2012 issue of 4×4 Magazine – available here