Hils Everitt – Editor at Large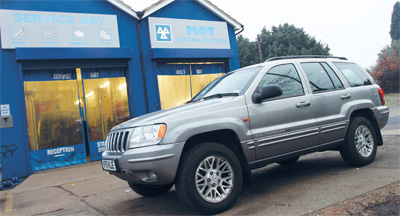 This year's medical check-up was a special one for my silver machine as it coincided with its 10th birthday; yep first registered in January 2002. It looks its age in some ways, such as the Jeep badging losing its lacquer in some places and the alloys certainly show the signs of a double-figure life, but in others, it looks good with the interior not bad at all. OK, so the black leather seats are rather creased, but I rather like that lived-in, comfy look and they really are still some of the comfiest seats I have nestled into – and that goes for some of the current luxury models that my backside has experienced recently.
When your 4×4 is the ripe old age of 10 you might expect some areas to show wear and tear and need attention and I half expected that there would be some comments on the MOT form from my mate who owns Central Auto Centre in Green Street Green. It passed its test fine, but, yes, there were some advisory notes: nearside and offside front brake discs are worn, pitted or scored but not seriously weakened; both rear anti-roll bars have slight play in a pin/bush and there is slight damage to the front headlamp but the light output is not reduced, so no fail warranted.
Jeep Grand Cherokee
Spec: 2.7CRD Limited
Mileage: 92,874
MPG: 32/22
Recent costs: MOT £54.85, annual service £79.17, plus sundries, overall total of £340 including VAT
Arrived: September 2006


You can read more about this Jeep in the April 2012 issue of 4×4 Magazine – available here