Hils Everitt – editor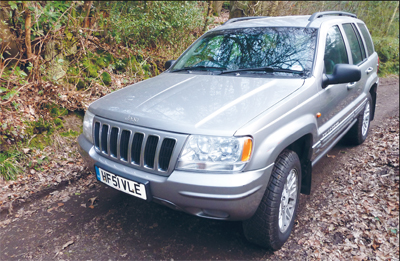 Well, so far so good. After a catalogue of problems in 2010, my Grand has behaved itself very well so far. With my brand new set of General Grabber AT rubberwear we conquered the deep snow last December and since then the beast has not put a foot wrong.
So, it was with a little trepidation that when the annual service and MoT time came up recently I couldn't help a real feeling of dread, just in case.
So, I dropped my 51-plate, 90,555-mile Jeep off at my mate's garage and didn't hang around to watch proceedings and dashed off in the hideous and ancient Fiat Punto that he had lent me for the day. I was a bit disappointed that he didn't hand me the keys of the Smart car that I usually get with its quirky sequential gearbox and left-hand drive. I love quirky cars and this one is the ultimate. The Punto was a poor substitute and I could feel the pitiful glances that were directed my way – everyone smiles at the Smart!
Anyway, a few hours later it was indeed all smiles as the Grand passed its MoT with flying colours – well after replacement of the offside registration plate lamp bulb and the nearside stop lamp not working, which I forgot to mention, and there was a minor oil leak which I had absolutely no idea about.
There was no work needed for its service. Last year I got a warning nod about keeping an eye out for tyres, but, of course, my Grabbers have only run for about 200 miles, so no problems there. There was even a yellow Post-it stuck to my invoice: 'nice rubber mate!'
There was, however, an advisory note with the MoT: Near side anti-roll bar linkage has slight play in a pin/bush as does the anti-roll bar in a pin/bush. That needs an eye kept on.
So, not too bad a result, then? The next thing is to find some cash and time to sort out the cosmetic details like the dent on the nearside front wing and sorting the badges out which have lost their lacquer.
Nigel Fryatt's report on his man from 'Chipsaway' in Surrey, who sorts minor body damage out on your driveway at half the price of the bodyshop, has got me thinking. So, sorry to my mate, but a phone call to my neighbouring county – only a few miles away – is on the cards. ■
SPECS
Make: Jeep Grand Cherokee
Model: 2.7-litre CRD
Limited Mileage: 90,555
MPG: 26
Recent costs: £295 for service and MoT all in at mates' rates
Arrived: September 2006
You can read more about this Jeep in the May 2011 issue of 4×4 Magazine.