Hils Everitt – editor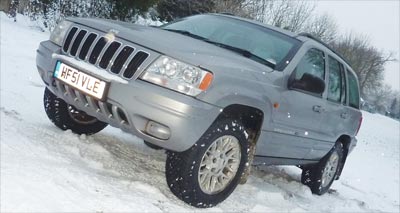 At last, Happy New Year it is indeed for my Grand that has really suffered in 2010. Am I glad to see the back of that year. Readers with good, long memories will recall that I was without my silver machine for several months while Mercedes Benz refused to release any parts to Jeep dealers during the financial trouble for the US company. I finally got delivery of the reconditioned auto gearbox which worked beautifully, but I'd almost forgotten what the Grand Cherokee looked like it as it been gone so long.
Then there were the two new injectors that needed fitting after it was running rather sluggishly. A few electrical problems also bugged me and the battery had to be replaced.
The end of 2010 , however, may have proved a real turning point – I hope – as a brand new set of hot-off-the-factory floor latest General Grabber ATs were fitted by the team at AJS 4×4 near Reigate in Surrey.
SPECS
Make: Jeep Grand Cherokee
Model: 2.7-litre CRD
Limited Mileage: 90,586
MPG: 27
Recent costs: a set of General Grabber ATs plus fitting
Arrived: September 2006
You can read more about this Jeep in the February 2011 issue of 4×4 Magazine – back issues available here