Hils Everitt – Editor at Large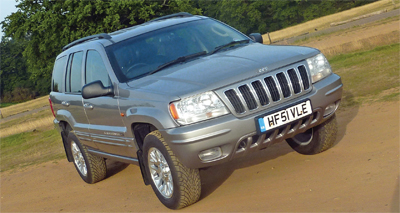 In a bid to sell my Grand, it needed some TLC. Having smartened up the badly scuffed and tarnished alloy wheels last month, I then turned my attention to sorting out some cosmetic bodywork stuff that has been around for a while that I just haven't got around to dealing with sorting.
Like the alloy job, I looked around for some quotes. The local bodyshop down the road from the guys who did my wheels was a little pricey and I had to deliver the Jeep to them and then pick it up again. This meant a fair bit of time out and a fairly costly taxi fare. There is no easy train link and the buses are few and far between around here. In the end I plumped for a local mobile service in Kent Sussex and surrey area. A chap from Dialadent – in this case a very, very nice man called Eddie – comes to your door and repairs all your dents and nicks in a few hours with a perfect colour match.
First of all, we had to get the colour match right. Now I know the colour of my Grand, but I didn't know the actual name or code. Chrysler was not very helpful in that it didn't supply a colour code on the door edge, as you often find with many vehicles. After a check online on a table of the reg (early 02) and the exact colour – Silverstone Metallic paint code XS5 and sales code PS5; late model 02 changed into Bright Silver Metallic Clear Coat – Eddie got onto Jeep to double check the code. That sorted he began his prep. Taping up the areas around the various areas that needed repair he then started on the worst job – the small dent in the offside front wing. That was caused after an altercation with a small skip that was invisible to the driver beneath the line of the front wing. The contact resulted in a two-inch dent that took off some paint and left an orange scar.
Spec: 2.7 CRD Limited
Mileage: 95,356
MPG: 32/33
Costs: £300 on body repairs
Arrived: September 2006

You can read more about this story in the December 2013 issue of 4×4 Magazine – available here