Hils Everitt – Editor at Large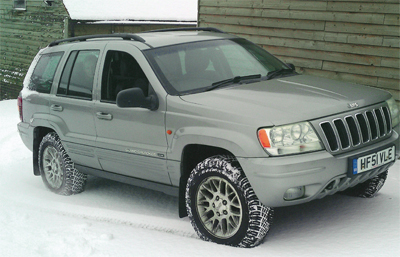 Once again, my beloved Grand, having just celebrated its 11th birthday, got the chance to have a little play in the Kentish snow. As always, it was a premium class act and took all talk of 'impossible driving conditions' with a pinch of salt. Although, in a literal sense, a little more than just a pinch of salt, courtesy of the council gritter lorries, which has played havoc with my already very tarnished alloys. I do, however, now have some new Jeep wheel centres, so will sort out the damage once this rotten winter is over.
The General Grabber AT M+S rubber fitted to my poor alloys play an absolute blinder in the snow. All the talk of massive stopping distances in the snow and ice for standard road tyres just doesn't apply to them. They are superb and create an overwhelming feeling of total safety. But that's not to say I don't take care in severe conditions, far from it. I just know that I don't have to worry in the slightest and can pootle along quite happily; confident I can stop pretty smartly and smoothly.
Once its play in the snow had come to an end it was time to sort out the annual service and MOT. I have to confess that, due to having the use of various Tiguans recently, I have been charging around the country bringing you stories in those, rather than racking up the miles in my Jeep. As a result, it has only clocked up a paltry 1000 miles since the last service, which surprised even me.
Spec: 2.7 CRD Limited
Mileage: 93,884
MPG: 32/33
Costs: MOT and service £240; 12month road tax £270
Arrived: September 2006

You can read more about this Jeep in the May 2013 issue of 4×4 Magazine – available here