Bob Cooke – contributor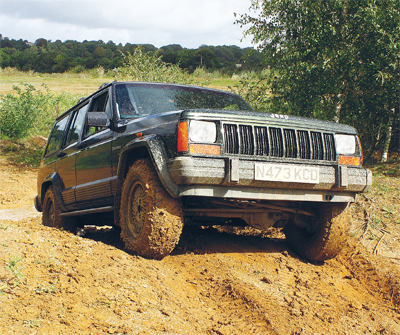 We've got more than mere mud to worry about these days, what with global warming contrarily giving us shorter summers and chillier winters. Hence the decision to try Goodyear's new Wrangler Duratrac tyres wasn't just because the mud at the Slindon Safari site is as thick, gloopy and slithery as any you'll find anywhere, but because the tread pattern of these new tyres, while optimised for deep mud conditions, is also designed to be particularly effective in snow.
At first glance we couldn't help wondering whether the seemingly close tread pattern – with more tightly-packed tread blocks that on the good old BFGoodrich Mud Terrains that we're more used to – would ultimately be as effective in muddy conditions. We very quickly did discover one significant advantage of that tread pattern, however, on the way to the off-road site: the new Wranglers run extremely quietly on the highway, give impressive cornering grip and confident braking performance. With the BFGs we could always tell the speed of the vehicle by the pitch of the hum coming from the tyres (a charming rather than annoying feature) but the Duratracs proved only marginally noisier than the Eagle GA road tyres they'd replaced.
SPEC
Make: Jeep Cherokee
Model: 4.0 Limited
Mileage: 61,875
MPG: 21.3
Recent costs: Nil
Arrived: July 2011

You can read more about this Jeep in the December 2011 issue of 4×4 Magazine