Bob Cooke – contributor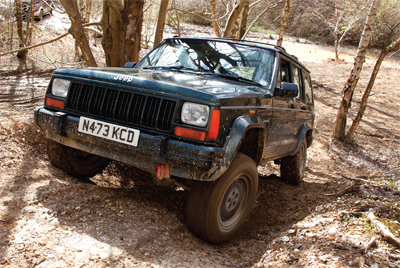 I wouldn't have known there was a problem until I drove the Cherokee over one of those ridiculous speed bumps on the way to the supermarket. The noise from the back wasn't the usual thump caused by the tool box bouncing in the boot, it was a definitely sharper bang, and it happened again as I drove over the next speed bump. My initial suspicion was a failed damper, though even that was surprising since the dampers are little more than a year and a half old, having been fitted at the same time as the heavy duty springs went on, and although I do use the truck off-road I don't treat it harshly enough to ruin a set of dampers that quickly. So, once the rain had stopped I got underneath and had a look, to find that the dampers all seemed secure. The spring, however, wasn't. The bolt holding the rear of the nearside leaf spring to the hanger had fallen out, allowing the rear of the spring to crash upwards directly against the chassis rail, hence the loud bang every time I bounced it over a hump.
In fairness we had been bouncing the Cherokee over some rather severe humps at the Slindon off-road site a couple of days before, during which the lack of banging from the rear suggested that the spring was still attached to the hanger. The constant significant flexing of the spring had obviously contributed to the loosening of the securing nut, which presumably fell off at some point, either at the site or on the way home that evening, followed by the bolt being nudged out by the speed bumps.

You can read more about this Jeep in the July 2014 issue of 4×4 Magazine – available here