Bob Cooke – contributor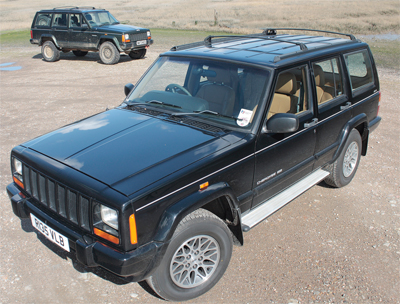 If anyone thinks it's silly that I should own and run two gas-guzzling Cherokees, I'd like to explain that there is some reason for this apparent madness, and it does go further than to point out that the fuel consumption isn't a problem because I can only drive one of them at a time. When I acquired my '95 model in July 2011, I'd actually been on the lookout for one of the facelifted Cherokees from 1997 on; I bought the N-reg one because it came up unexpectedly and looked like a good deal at the time – £700 for a car with just 73,000 miles on it. Regular readers will remember the concerns I had about this car from the start – for instance there was no immobiliser reset key, the air con didn't work because the reason for the car's low mileage is that it sat in a field for years and the air con pipework had simply rotted away. Nevertheless, the old truck has given me excellent and trouble-free service for nearly two years, the only significant cost having been the few hundred I spent on fitting heavy-duty springs to give it a little lift.
However, I've always had in the back of my mind the thought that I'd really wanted one of the later, theoretically more refined, Cherokees. And even though the green '95 model is still going strong (apart from a clonking from the rear which I suspect is a failed damper, not a serious problem to fix) when I saw the black '98 model being wheeled on to the auction floor I couldn't resist it.
The original plan was for the 'new' '98 model to replace the 'old' '95er, in the sense that I'd simply swap the heavy duty springs from the old car for the standard ones on the new car, and then sell the old one to someone who might want it as an off-road plaything. There was only one problem with that plan – the '98 car is still in such good shape that I can't bring myself to roughen it up for off-road use, and the '95 car is also running too well to warrant disposal. Hence I've made the decision to run them both, at least for the rest of this year, my excuse being that the old car is paid for, licenced and insured so it's costing me nothing to keep it, and the additional expense of owning the '98 model adds up to peanuts in the grand scheme of things. That way I've got one for town use and one for country use.

You can read more about this Jeep in the June 2014 issue of 4×4 Magazine – available here