Bob Cooke – contributor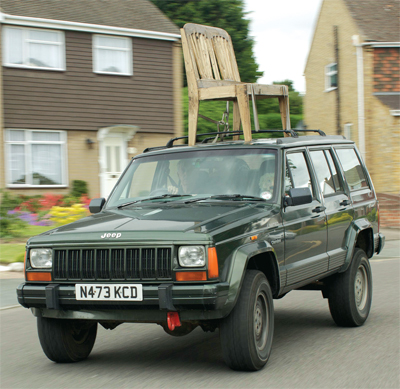 It's that time of year again, when my daughter Kerrie presents a play at an annual drama festival in Rochester. And since that play involves a variety of bulky items of scenery, which has to be transported from workshop to theatre, she requires a vehicle to do the transporting, which inevitably means the Cherokee on account of the ease with which it converts into a van-like cargo carrier. The play this year involves four metre-and-a-half box-like frames that open to reveal a garden – don't ask – along with a matching garden bench and – again don't ask – a ventriloquist's dummy called Benny. Since the garden frames pretty much stretched the Cherokee's internal cargo space to the limit, the bench had to go on the roof, leaving Benny to share the remaining passenger space with me… and yes, I know, it was hard to tell which of us was the dummy as we carted the scenery down to the theatre.
Always willing to have a laugh, I turned somewhat theatrical myself and decided to ham up the photo of the Jeep in transporter mode by perching the bench upright on the roof, even though doing so meant bypassing the roof rails and having the four legs set straight onto the steel roof. Not being one to wilfully damage cars – even old ones – just for the hell of it, I winced as I saw the roof buckle under the weight of the bench. The roof panel is ribbed to strengthen it, but it was obviously never meant to take that sort of load directly. Oh well, I thought, too late – might as well get the photo. We hadn't driven more than a few hundred metres, however, when the creaking and clonking noises from the roof, enhanced as we rounded a bend, got too much for me. With help from the photographer I eased the bench off the roof and repositioned it, upside down so that the seat and backrest frames sat squarely on the roof rails, and continued with the photo shoot even though I knew the result wouldn't be as funny.
SPEC
Make: Jeep Cherokee
Model: 4.0 Limited
Mileage: 72,185
MPG: 20.2
Recent costs: nil
Arrived: July 2011

You can read more about this Jeep in the September 2013 issue of 4×4 Magazine – available here