Bob Cooke – contributor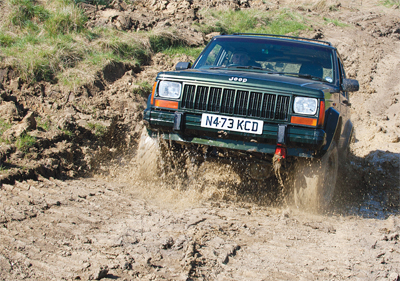 Just for a moment I thought the Cherokee wasn't going to make it. It was Pete's fault, because he thought the Cherokee blasting through one of the water splashes would make a good picture, but he needed me to come in from the other side because of where the sun was. That meant bypassing the splash through a stretch of gloopy mud and turning around on what turned out to be not only gloopier mud but deeply rutted by other cars with bigger and more aggressive tyres. What was meant to be a quick three-point turn developed into a painfully slow seven pointer, taking it ever-so-gently to give the Wrangler Duratraks every chance of grabbing some grip in the cloying mud. Fortunately the mud at the Hop Farm isn't of the seriously slippery clay-heavy type, so heavy-treaded tyres can find something to bite into. Time after time the Cherokee sank into the ruts, but gentle near-tick over tickling of the accelerator eased it out until it eventually lined itself up with the water splash. From then on it was easy.
Naturally I didn't dive straight into the deepest water hole I could find on the revived Hop Farm course, because I know the Cherokee's limitations – and besides, most of those holes were blocked by other cars that had gone in with high hopes but had ended up needing to be winched out again. Full marks to site operators Simon Butcher and Colin Sellers, who had anticipated such problems and had sunk secure winching points into the ground. I was also pleased to see the way they kept an eye on the off-roaders using the site, and were quick to go to the aid of anyone who appeared to be having trouble. Their own well-sorted Land Rovers are on hand to give a tow or winch assistance to anyone who needs it.
SPEC
Make: Jeep Cherokee
Model: 4.0 Limited
Mileage: 73,879
MPG: 20.2
Recent costs: Nil
Arrived: July 2011

You can read more about this Jeep in the July 2013 issue of 4×4 Magazine. Buy the magazine here