Bob Cooke – contributor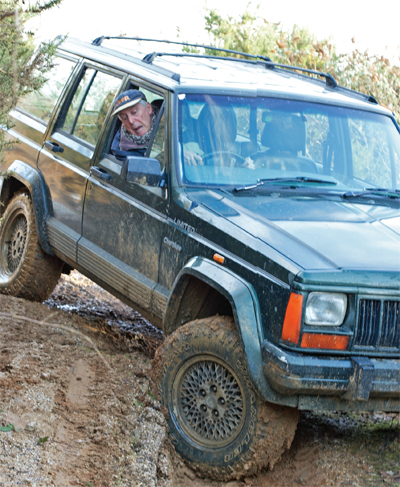 My favourite Top Tip from the anarchic magazine Viz: Put a £20 note in the inside pocket of your dark suit jacket so the next time you go to a funeral you'll find something to cheer you up! Now, it was just as well the Cherokee had been through a car wash as part of the cleanup for its MOT examination, because along with the bills that came through the front door was an invitation to a funeral. It was the last ceremony of a bloke I didn't like very much, but I figured it would be a chance to meet up with some distant relatives I'd not seen for years. The fact that it would be a 185- mile drive each way was a bit irking since the Cherokee's comfortable with it; I reckon if I ever upgrade to a newer model I'll switch the seats with those from my current Cherokee.
It was quite a pleasant drive on one of those rare sunny days and the Cherokee was still gleaming after the long haul up the A1, the bodywork remarkably clear of dents and scratches and its dark green paintwork still largely unblemished. Just for a brief moment, though, I rather wished the Cherokee had a more modern, softly rounded body style. It was when I arrived at the crematorium and turned in through the entrance gate and made my way sedately past a waiting group of mourners; some older folk removed their hats and bowed their heads as I cruised past, having briefly mistaken the Cherokee for a hearse…
After the service, I decided then that it was time to get some more mud on the truck to make it look a little less funereal. I don't often plant the Cherokee so deep into the countryside that I have to resort to getting it towed out or, worse still, have to break out the shovel to dig it to freedom. In fact, the last time I had the shovel out was in an attempt to illustrate a point, and the car wasn't really stuck at all. I continue even after all these years to be impressed by the Cherokee and, I guess I have to add, the Goodyear Wrangler Duratrac tyres, for the way they behave in muddy conditions.
SPEC
Make: Jeep Cherokee
Model: 4.0 Limited
Mileage: 68,785
MPG: 20.2
Recent costs: Twenty quid for a funeral
Arrived: July 2011

You can read more about this Jeep in the April 2013 issue of 4×4 Magazine – available here