Bob Cooke – contributor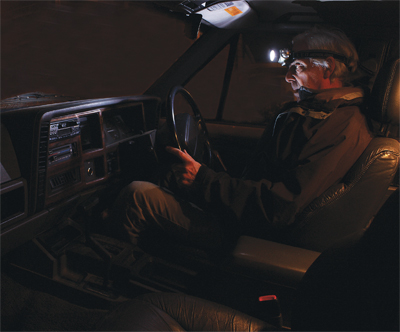 It's just as well that I carry one of those head torch things in the Cherokee. Not just because we've entered the dark days of winter, though it's useful on those odd occasions when you need to see if what you've just run over is edible. I don't even need the torch to find my way up the driveway after parking because the Cherokee has a "sentinel" headlamp system, which leaves the lamps alight for about 45 seconds after switching off the ignition. I need the torch because the dashboard lamps have failed, so I need a means of checking my speed and finding the stereo and heater controls after dark. It's an odd one – the dash illumination doesn't work, nor does the stereo display, yet the digital clock still ticks away in the dark and the stereo still works, it just doesn't show me what station I'm listening to. The handbook doesn't assign a fuse to the dashboard illumination, so I'm somewhat bewildered.
The Cherokee's pull-out headlamp switch is supposed to control the brightness of the dashboard lamps – you turn the knob anticlockwise to brighten the display, and if you turn it far enough it turns on the overhead interior lamps. It still turns on the interior illumination, but no sign of dashboard lights, no matter how much I twist or twiddle the knob. I guess it's possible that the switch is the culprit, perhaps a loose connection or a corroded rheostat, but I'm not tampering with it until I have a good replacement working item in hand, which means a trip to the local car breakers. One reason that I haven't done that already is that it's not something that bothers me much – I can judge my speed well enough by the whining of the tyres and transmission.
SPEC
Make: Jeep Cherokee
Model: 4.0 Limited
Mileage: 68,785
MPG: 19.8
Recent costs: A few light bulbs!
Arrived: July 2011

You can read more about this Jeep in the March 2013 issue of 4×4 Magazine – available here