Bob Cooke – contributor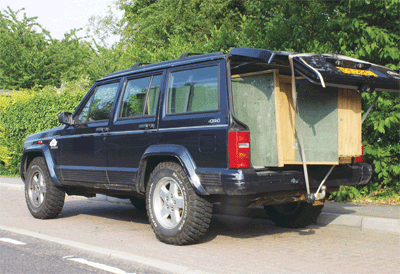 The Cherokee is my off-road plaything but everyone else sees it as a big truck. Hence whenever anyone has something big to move, who they gonna call? 'Oh, Bob'll move it, he's got that big Cherokee!' I keep trying to tell them that the Cherokee is a compact 4×4, but no-one listens.
The first call came from Tim who'd bought a doghouse at auction for Elaine's Chocolate Labrador Conker. "It won't fit in Elaine's MX5," he said. Of course not – and we were only able to squeeze it into the Cherokee after we'd knocked off some of the roof-edging trim. Then Kerrie needed the scenery for her travelling play shifted, so the Cherokee was again called into service, with seven sturdy 4ftx7ft stage flats strapped to the roof and the cargo bay bursting at the seams with props, including a fake fireplace and two heavy supporting beams. Last, but by no means least, Saffron decided to have a couple of chickens for her birthday which meant – you've guessed it – I had to collect the chicken shed needed to house her two feathered friends. There followed an 80-mile round trip to Herne Bay to collect and deliver the chicken shed, which was only just wide enough to scrape through the Cherokee's tailgate opening, but being a foot too long I had to tie the tailgate down against the shed with a ratchet strap wound round the tow hitch.
I keep telling them that the Cherokee is a monocoque and the tailgate is a necessary part of the structure; drive any distance with the tailgate open and the body and tailgate can twist enough that the tailgate will never shut properly again. They don't listen, of course… but as it happens, after that drive the tailgate now shuts more cleanly than it ever did before. May I add that with the chicken shed taking up so much space there was no room for the spare wheel in the cargo bay, so it had to travel beside me up front. For heaven's sake don't tell the police, they'd probably want a word with me about having a huge spare wheel as a front seat passenger but honest, guv, it was well strapped down by the seat belt…
It was MoT time for the old Jeep, and I was pleased to hear from the lads at Riverside Motoring Centre that all it needed was an exhaust clamp – that'll be the one I knocked off on last year's Mille Rivieres, then. They fitted a replacement for £3.95, which I consider a bargain to get another year's ticket for my off-road toy-cum-load lugger. I also treated the Jeep to an oil and filter change and a transfusion of auto transmission fluid, a service that showed up a couple of problems – one that the transmission fluid had been rather low, which could explain the relative sluggishness of the auto 'box when driving off-road, and now that it's been topped up it's more responsive than it's ever been. The lads also spotted a coolant leak in the overflow pipe running from the radiator cap, which had resulted in a low level of coolant – but only after the engine had run hot. In normal driving it never gets hot enough to involve the overflow pipe, so I'd never previously noticed a low coolant level. Needless to say, the Cherokee is once again running as smooth as a baby's bottom. Well, a baby gorilla's bottom, anyway.
SPECS
Model: Jeep Cherokee
Spec: 4.0 Limited
Mileage: 127,455
MPG: 19.9
Recent costs: MoT £45, exhaust clamp £3.95, oil, filter and ATF fluid change £168
Arrived: Oct '08