Bob Cooke – contributor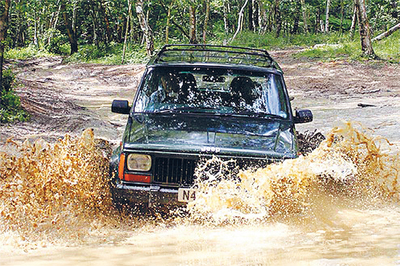 For some time, I've been toying with the idea of upgrading the Cherokee to make it a little more off-road friendly. A quick recap: I bought the car from a farmer after it had been stood in a field for several years – hence the low mileage has to be balanced against the possible deterioration of having been unloved and unused for so long. One of the problems is that an immobiliser of some sort has been fitted, but there was no fob or key for that system when I bought the car, so I dread the day when the immobiliser sets itself – and since I consider it likely that disconnecting the battery will have just that effect, I've not done any work that involves disconnecting the battery, and I've always taken care to make sure that I don't let the battery drain down through lack of use.
The air con doesn't work, because the pipework is so badly corroded, half the dashboard lights don't work, one of the back doors doesn't work with the central locking and there's no underbody protection of any sort. Not that these are particularly serious annoyances, but I keep wondering if it's worth upgrading this car rather than buying another one that may have a higher mileage but is actually in better condition.
SPEC
Make: Jeep Cherokee
Model: 4.0 Limited
Mileage: 67,585
MPG: 19.8
Recent costs: Some spare piping
Arrived: July 2011

You can read more about this Jeep in the October 2012 issue of 4×4 Magazine – available here