Bob Cooke – contributor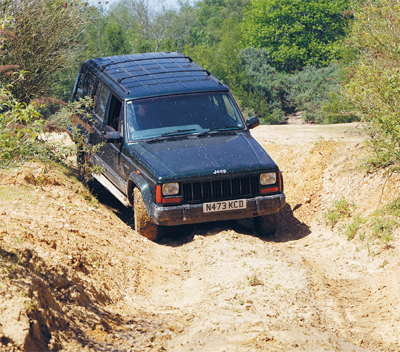 I really couldn't understand why 'er indoors didn't like driving the Cherokee. It may be getting on a bit, and I can quite understand that she doesn't like getting dirt on her tights as she steps in over the mud-caked sidesteps (they're useless as sidesteps, but serve well enough as sill protectors) but once she's inside she has all the creature comforts of any modern SUV, especially the supportive electrically-adjustable seats giving her that commanding view of the road ahead. I'd also assumed that, being a somewhat pushy driver, she'd approve of the Cherokee's traffic-dominating size, not to mention the availability of tar-scorching acceleration. Her main dislike, however, seemed to be that "the steering's too vague," which adds up to a feeling of success when I eventually persuaded her to join me on a day's off-roading at the Slindon Safari site near Arundel.
She assumed she'd merely be passengering, until I ushered her in behind the wheel. "I can't drive this here," she said. "Of course you can," I insisted. She climbed in reluctantly; I showed her how to engage four-wheel drive and low range by tugging up on the Cherokee's transfer gear lever. "I wondered what that was for," she commented. I pointed to a muddy hole in the ground up ahead. "You must be joking," she replied. I wasn't, so she gingerly eased the car through. Next came a deeply rutted track with some quite big humps and dips, so I got out to spot her through, fearful that she might take the wrong line and take the Cherokee's exhaust off. As usual, she took no notice of me, and just drove blithely through, emerging with a big grin on her face. And before I could say another word she was off into the muddy distance with mud flying in every direction.
SPEC
Make: Jeep Cherokee
Model: 4.0 Limited
Mileage: 66,486
MPG: 19.8
Recent costs: £2.50 car wash; £3.95 tax disc holder!
Arrived: July 2011

You can read more about this Jeep in the September 2012 issue of 4×4 Magazine – available here