Bob Cooke – contributor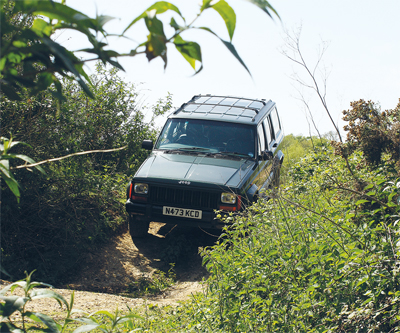 It looked like a pleasingly demanding trail – narrow with some steep climbs and sudden drops, and some awkward axle-twisting humps along the way, the sort of track I'd have to take with care bearing in mind that the Cherokee has limited ground clearance and nothing much in the way of underbody protection. Careful positioning of the wheels kept most of the vulnerable bits out of harm's way as the Jeep eased over the first big bump, which was followed by a sharp rise to the right, steep and sudden enough to have the Jeep's tow bar scraping the gravel as the nose headed skywards.
It was at that point that I realised why this particularly narrow and tortuous trail exists – because over the top of the rise came three powerful quads, which fortunately managed to stop just in time to avoid making contact with the Jeep. The track is part of the extensive purpose-built quad trail around the vast Boxgrove off-road site, and the Cherokee really shouldn't have been there. The trouble was that the trail is so narrow and awkwardly shaped that turning round wasn't an easy option, and with the tow bar threatening to dig in and wedge the Jeep in place if I attempted to reverse out, I figured the only way out was to drive on.
SPEC
Make: Jeep Cherokee
Model: 4.0 Limited
Mileage: 65,950
MPG: 19.8
Recent costs: none
Arrived: July 2011

You can read more about this Jeep in the August 2012 issue of 4×4 Magazine – available here