Bob Cooke – contributor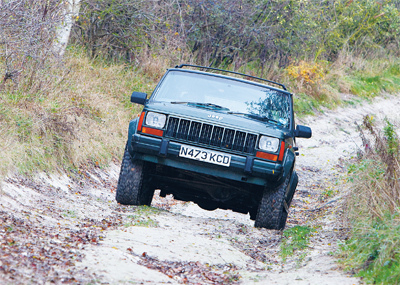 Some sausages on a makeshift barbecue, a Kelly kettle and a Jeep. What more could anyone ask for? I'd had enough of beavering away in a stuffy office. It was wintry cold outside, and it looked as if it might be working up into a gale, but the thought of getting a breath of fresh air easily outweighed the prospect of catching up with a boring backlog of filing. I called Pete and found that he felt the same way, so pausing only to purchase a pack of Toulouse sausages from our local superstore, I aimed the Cherokee towards Buckinghamshire, the cruise control coming into its own on the long haul round the M25. I mention that because the cruise control still works, even if the air conditioning doesn't, which is a pity – even in winter – because air con can be an effective means of demisting a clammy vehicle.
The heater fan is still capable of blowing hot air into the cab, so the only really annoying problem left is that the heater controls, along with the stereo and the digital clock, don't illuminate at night, so I've had to learn to operate them Braille-fashion. Perversely, the gearshift indicator beside the gear lever has suddenly decided to illuminate again. Permanently.
SPEC
Make: Jeep Cherokee
Model: 4.0 Limited
Mileage: 63,409
MPG: 19.8
Recent costs: Nil
Arrived: July 2011

You can read more about this Jeep in the February 2012 issue of 4×4 Magazine