Phil Weeden – editorial director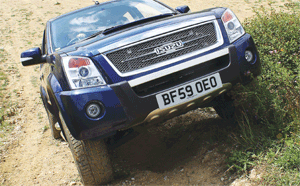 Having had the Rodeo for about a week and been thoroughly impressed with its workman-like capabilities and its sturdiness, it was time for a bit of fun. We were invited to a wedding up in deepest Shropshire – a truly lovely part of the world and a great place to camp. We found a site about four miles from the wedding venue near Market Drayton so headed up there with the Rodeo laden with all our posh togs, sleeping bags and tent. But not just any tent: we'd dropped by DVK, a company that specialises in retailing pick-up and SUV tents. We thought we'd test out one of the company's pick-up tents; dubbed the Sportz Truck Tent II and made by Napier Enterprises. It sits in the loadbed and extends out of the back of the vehicle with an awning – it's a perfectly effective and compact solution to off-the-ground camping and a cheap alternative to roof tents.
On the morning of the wedding, I got up bright and early to remove the Alpha hardtop. I sat in the loadbed studying the anchorage points long and hard. The black brackets slide down silver metal runners that are bolted to the side of the loadbed – and there are six of them, three each side. It was truly going to take a lot of finger twirling with an Allen key to undo those. On closer inspection, when I peered behind the loadliner by removing one of the Torx bolts by the load hatch, it revealed a large electrical cable tightly insulated in a black sleeve or insulating tape; it appeared to be running from the rear left taillight up to the hardtop's high intensity brake light. There was no visible connector block and time was ticking on. So in a state of despair, I screwed everything back into place and drove up to Kenilworth in the hope that John Kidman at DVK could supply an alternative. He came good with an SUV Sportz SUV Tent (Model No 80000), a four-man tent that features an elasticated sleeve which slides over the back end of the vehicle. There are a choice of sizes to suit conventional hatchbacks and estates and bigger SUVs, the latter version can sleep up to six people. The idea being you can use the loadbed for sleeping or extra storage. It seemed to be well made and was dead easy to put up; the campsite owner and a few fellow campers were suitably intrigued by the set-up. The only downside was using the loadbed to sleep in. The Rodeo's large wheelarches intrude so much that you can't realistically sleep two people in comfort side by side. We tried to squeeze a double inflatable mattress in there and it was having none of it.
Still, we can thoroughly recommend these tents available from DVK. For those of you who seldom camp, John at DVK informs me that soon he'll be hiring these tents out. There's plenty more information at www. dvk-quba.co.uk or by calling 01926 854920. Incidentally, on my return to the office after our camping adventure, I spoke with Isuzu and was informed that the removable hardtop isn't removable and the Alpha hardtop is no longer used by Isuzu. The company now fits XTC units instead with effect from the latest 2010.5 Model Year examples, thereby returning the same hardtops that were used prior to 2007.
Model: Isuzu Rodeo
Spec: Denver Max LE
Mileage: 4685
MPG: 30.7mpg
Recent costs: None
Arrived: March '10