Bob Cooke – contributor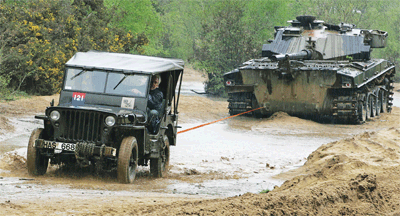 The tank was seriously stuck. The engine roared, the clutches slipped, the tracks churned but the megamass of military metal had clearly bellied out on a hidden chunk of rock. There was only one thing for it – Eugene to the rescue. With a 10-metre strop shackled to the blighted behemoth the lighweight veteran hauled the tank free…
In our dreams. Eugene just happened to be charging past the tank when photographer Pete Robain snapped it, and he couldn't help Photoshopping in the towrope. Good one, Pete – but not as good as Pete's later effort, when, with his 1947 Willys CJ3A, he used a real strop to pull a bogged-down Defender out of a hole – one-upmanship, or what!
It's great when Eugene and Pete's Little Star get together for some serious off-roading, and the All Wheel Drive Club's drivearound at Slab Common was an ideal opportunity, especially as they'd arranged for early arrivals to camp over on the Saturday night for the Sunday's driving. Although I usually take Eugene to offroad venues A-framed behind the Cherokee, I decided this time to hire a trailer from Trident Trailers in Maidstone – not bad, really, at £85 for the weekend, although I did add the £30 for the accident or theft insurance – to cut down the wear and tear on the Hotchkiss's hubs and tyres, using the long-term Wrangler as the impressively competent tow barge.
I have a lot of fun chasing Pete's old Jeep around, because his tyres are taller, grippier SATs and his back axle has an auto-locking diff, so he can go places with ease where Eugene struggles, calling for all the more skill on my part to keep it on Pete's tail. Needless to say, there were quite a few occasions where no amount of skill could do the business, so the Defender wasn't the only bogged-down 4×4 that Pete was called on to rescue that day.
The driving day also provided a good opportunity for our friend Nick to get in some off-roading experience, and, as ever, Eugene proved the ideal vehicle for some basic offroad tuition – lacking the sophistication of modern traction controls, locking differentials, demountable sway bars or even much in the way of ground clearance and axle articulation, you need to think more carefully about exactly where to position the vehicle to overcome a particular obstacle. One steep, rutted climb with great mounds of solid earth hemming in on either side proved quite daunting for Nick, who had several goes but couldn't quite summon up the nerve to aim the Hotchkiss more to the right, which he needed to do to avoid the worst of the big hole halfway up that put the old Jeep over its axle-twist limit. I must admit that it was with some smug satisfaction that I eventually took over and, with exquisite skill, aim and timing drove up in one…well, with a big bootful of extra wellie, anyway, so that the old dog flew up the incline hardly touching the bottom, let alone the sides. Nick's cry of fear from the passenger seat still rings in my ears…
SPECS
Model: Hotchkiss
Spec: M201
Mileage: 74,012km
MPG: n/a
Recent costs: nil
Arrived: June '08