Bob Cooke – contributor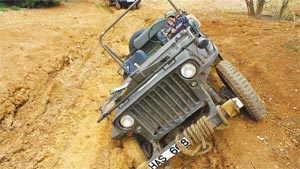 I did say, didn't I, that I wasn't going to let Ivor loose in the Hotchkiss again, on account of his somewhat over-enthusiastic manner with the gearstick and the accelerator? Still, I'm a soft touch, so when he turned up at Boxgrove Pit again looking apologetic and promising not to do anything daft I relented, especially as he'd brought his nine-year old son Hayden along.
Hayden looked suitably excited as I invited him into the passenger seat and familiarised him with the full-harness seat belt. Noting, with some relief, that Eugene does also have a roll-over bar, I said to Ivor: "Take it for a ride, then, but don't try anything too demanding. Safety is paramount and off-roading can be dangerous." Ivor nodded, smiled sweetly, crunched into gear, revved the engine and disappeared in a cloud of dust.
When they did come back both Ivor and Hayden were wearing ear-to-ear grins. Ivor said: "Hayden wants you to take him out now and do some more exciting stuff."
I'm always a bit reluctant to do anything too serious when there are kids on board, but Hayden was looking so expectant that I couldn't resist. I figured there were a few interesting spots at Boxgrove where I could make it look exciting without getting too close to danger; the first challenge, a little seemingly-vertical climb from one of the tracks up through some bushes to a higher level, seemed good for starters, and had the desired effect on Hayden who said in disbelief: "We're going up there? Tell me when we're at the top so I can open my eyes." Next was up one of the ramps at the far end of the site and round to the bit I call the Carousel – sharply down through a grove of trees and curving round sharply to some deeply-rutted terrain below.
I let Eugene run down on engine braking alone – it doesn't have much – so it was quite a rollercoaster ride. Then we tackled the tricky axle-twisting terrain below, followed by a rock 'n' rolling passage up a steep, rutted track through a tunnel of gorse bushes, all stuff that tested the little 4×4's ability and my ingenuity. After which Hayden said: "Can we do something really extreme now?" I took him straight back to his dad and said: "Ivor, your boy's as crazy as you are."
I had some unfinished business to discuss with the site's operator, John Morgan, so I handed Eugene back to Ivor, again advising against trying anything too serious. "Of course not," he said, "we'll just do a bit of exploring."
Less than five minutes later the walkie-talkie crackled. It was Ivor: "Er…I'm afraid we've got stuck." No problem, I thought, getting stuck's all part of the off-roading fun. I asked: "What happened?" Ivor replied "It's gone over on its side in a muddy ditch." Alarm bells rang as I imagined a scene of carnage and leapt to my feet: "Anyone hurt?" The reply was suitably calming: "Just my pride."
It wasn't as bad as it had sounded. Ivor had followed some ruts which, on the face of it, looked passable, but he hadn't realised that under the thin crust of sun-dried mud was a metre-deep layer of sloppy gloop that sucked Eugene down to its chassis rails. I figure Ivor must have been moving at quite a lick to get that far into the gloop, since it took a good 20 minutes for the Cherokee to haul it back to dry land. Now I said it before, and I'm saying it again – never again will I let Ivor drive Eugene…
SPECS
Model: Hotchkiss
Spec: M201
Mileage: 74609km
MPG: N/A
Recent costs: Five hours' labour cleaning off the mud
Arrived: June '08