Hils Everitt – Editor at Large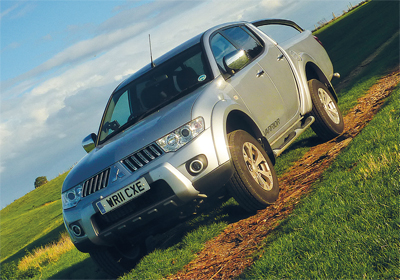 When our editor borrowed the L200 recently for some local running around, he was more than happy to give it back to me, as the fuel consumption, compared to his partner Sue's Toyota RAV4, was clearly upsetting him.
The RAV, as you can see regularly in this section, is being quoted as around 31mpg, whereas the 2.5-litre workhorse that powers our shiny silver Warrior spec has an official figure of 30mpg. Not a lot of difference then, so what's the problem?
Well, if you look at the onboard computer and flick it over to the average fuel consumption reading (which obviously our Ed did) then I certainly, rarely get anything above 26.5mpg. I decided to put it to the test and see how high I could actually get the red numbers to go.
On a recent journey, bombing around the Midlands on the quest for the Hummer story you read last month and visiting the Land Rover Show in Peterborough, I drove extremely conservatively (for me, at least) and, it has to be said, I was snarled up in a lot of traffic on the (yes, you guessed it) M25. As the readout crept up toward 30mpg I was getting very excited – will it actually break 30mpg for the first time? Well, as you can see from the pics (and apologies that one is so poor – I had to snap it in a hurry with my compact camera at a very strange angle to my body; do not do this at home) I made it to 32.2mpg. And then, imagine my astonishment when it actually started to creep up even further and finally hit 36.4mpg. It then briefly visited 36.7 but I just couldn't manage to catch that image so you'll just have to take my word for it!
Mitsubishi L200
Spec: 2.5 Di-D Warrior Leather Auto··
Mileage: 3804
MPG: 29.57
Recent costs: None
Arrived: June 2011

You can read more about this Mitsubishi in the December 2011 issue of 4×4 Magazine.