Hils Everitt – Editor at Large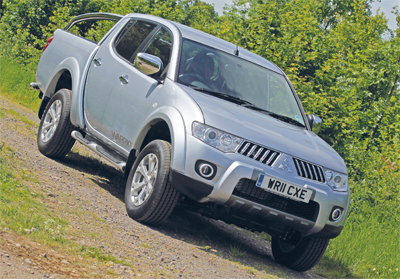 So we finally bid a fond farewell to our L200 Warrior pick-up truck. It has clocked up 5672 miles and served as a comfortable road hauler that has deposited me all over the country on various magazine jobs, plus as a handy off-roader on a great day out with the Mitsubishi L200 Club.
It has also served as a house moving truck for our designer Paul and editor Nigel took a spin in it for a while but he didn't really bond with the mighty warrior. His dislike was mainly due to its consumption, although we have since proved that it wasn't that bad compared to his Toyota Hilux; the fuel gauge just appeared rather deceptive and the computer readings for consumption were pure nonsense! It registered 36.7mpg at one point on one of my motorway journeys that included crawling on the dreaded M25. I worked out, using the more reliable, old-fashioned method of fuel receipt and calculator, that it was actually an average of 29.57mpg. Not the most economical of the trucks and with the Amarok on the scene and new Ranger, that figure looks decidedly unattractive for the bulk fleet buyer perhaps.
At around £26,880 (inc VAT) our 2.5 DI-D Warrior auto spec is not bad value. For that you get leather seats/wheel/transfer and shift levers, cruise control, 17in alloys, tubular chrome side steps, body-coloured front resin guard, chrome front grille with grey inserts, mirrors and chrome rear bar with step, over the Trojan spec. The styling has always been a matter of taste. It shocked the trucking world when it first appeared in 2006 with its lifestylee design and deliberate nod towards the non commercially-traditional market. But that is where the designers at Mitsubishi scored a direct hit, selling in bucket loads as the leisure market took the bug-like pick-up to its heart. And now the L200 has a big following in the commercial sector because it outshines much of the opposition in the NCAP safety rating stakes with a shining four stars.
Mitsubishi L200
Spec: 2.5 Di-D Warrior Leather Auto··
Mileage: 5872
MPG: 29
Recent costs: None
Arrived: June 2011

You can read more about this Mitsubishi in the March 2012 issue of 4×4 Magazine – available here